Changes to the way we will operate since Covid-19 to keep our Guests and ourselves safe we have initiated the following guide-lines: -
Guests will be encouraged to check in at slightly different times & Breakfast times staggered to allow space for all guests


Hand sanitiser pump dispenser in the entrance porch to Chyheira for all to use


Paper napkins will be used in the breakfast room as opposed to cloth


Individual packet tissues will be left in the bedroom as opposed to an open box


Refreshment sachets including milk and biscuits will be individually wrapped and provided daily. Fresh milk can be requested if preferred. Unused sachets and cartons will be disposed of upon guest departure.


Toilet rolls will be new per guest check in and disposed of after check out


Soap dispensers will be filled before arrival in guest bathrooms and thoroughly cleaned upon departure, along with shampoo and shower gel dispensers


All towels and bed linen will be washed at 60 degrees & bins will be emptied daily as usual


Windows will be opened to air rooms – pillows and mattresses will be covered with a protector which will be laundered after each guest along with bed linen.


Key fobs and card machine will be wiped with disinfectant before and after use


We are following UK Hospitality Industry guidelines; we reserve the right to change or modify our practices to improve performance.


We have been awarded the Covid-19 confident accreditation from the AA and also a certificate 'We're good to go' Covid-19 Industry Standard. From the National Tourist Organisation of Great Britain. Please feel reassured we will look after you safely in a clean and socially distanced aware way.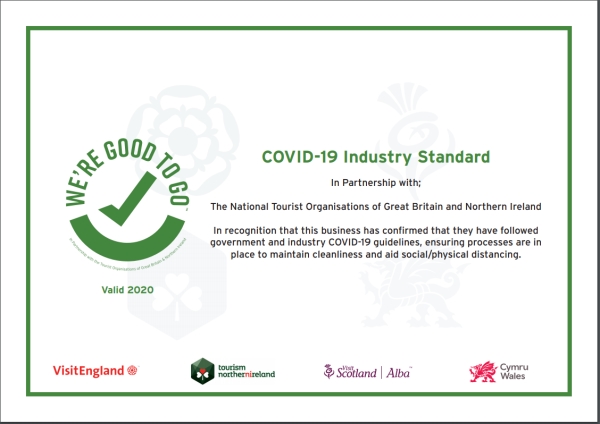 ---